ETIPWind Advisory Group Dialogue
Tuesday 27 September 2016,
Meeting room C 2.2 (1st floor) WindEurope Summit 2016, Hamburg, Germany
Pictures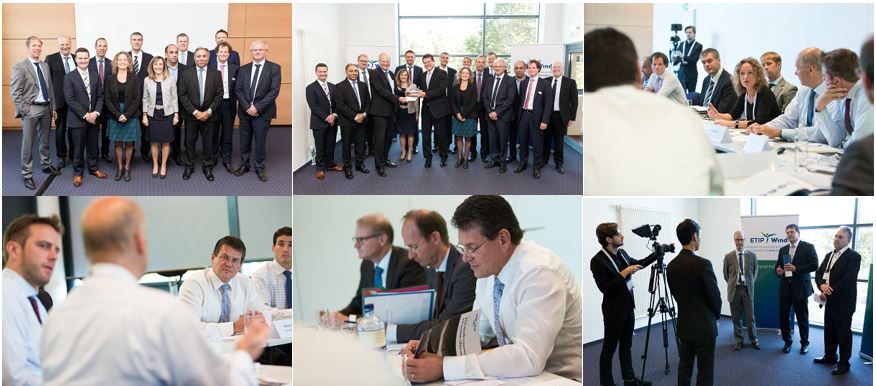 Programme
Scope: The ETIPWind Advisory Group meet twice a year in a discussion forum. The intent is to dialogue between key industrial decision-makers from the wind industry and high level policymakers from the European Commission. The objective is to create a forum for a continuous dialogue where the current and future wind energy research and innovation priorities is discussed.
10:45 – 11:15

State of play

State of play on R&I priorities agreed on by ETIPWind Advisory Group the 10 February 2016. Strategic Research and Innovation Agenda presented by ETIPWind chair Mr. Aidan Cronin, Siemens Wind Power.

11:15 – 12:00

Strategic Research and Innovation Agenda 2016

Handing over the Strategic Research and Innovation Agenda 2016 to Vice President of the European Commission Mr. Maroš Šefčovič.
Photo session

12:00 – 12:10

Next step

Making policy makers aware of the Strategic Research and Innovation Agenda.

EURICS (the Energy Union Research, Innovation and Competitiveness Strategy)
H2020 Strategic Framework Programme 2018 – 2020, InnovFin, Innovation Fund etc.
Member State level in all EU countries.

12:10 – 12:15

Next ETIPWind Advisory Group meeting and AOB

Thursday 16 March 2017. To be discussed

12:15 – –>

Lunch served
*Note that participation in this meeting requires a WindEurope Summit conference pass.
**In case of questions at site: Edit Nielsen +32 496 817 013