What is ETIPWind?
ETIPWind or the European Technology and Innovation Platform on Wind Energy was first established in 2016 by WindEurope with the support of the European Commission.

ETIPWind activities combine two prior initiatives: the European Wind Energy Technology Platform (TPWind) and the European Wind Industry Initiative. The ambition is to define and agree on concrete research and innovation (R&I) priorities and communicate these to the European institutions and other decision making bodies in order to support the EU's ambition of a decarbonised economy by 2050.

The European Technology and Innovation Platforms (ETIPs) were created to support the implementation of the SET-Plan across Member States, industry and researchers in key sectors. They promote the market uptake of key energy technologies by pooling funding, skills, and research facilities. In particular, ETIPs support the SET Plan Research & Innovation implementation plans which lay down the priorities for the different technologies.

The current ETIPWind platform informs Research & Innovation policy at European and national level to deliver on the EU's Climate and Energy objectives and maintain Europe's competitive edge in wind energy.

The EU wants wind energy to meet 50% of its electricity needs by 2050. This means a significant acceleration of wind power deployment. The REPowerEU plan, proposed by the European Commission in response to the invasion of Ukraine, already foresees the need of 510 GW of wind by 2030– up from 190 GW today. That is a tremendous challenge, but also a fantastic opportunity to sustain Europe's technology leadership in wind energy.

ETIPWind interacts with the European Commission and European Parliament, the SET Plan Steering Group, other ETIPs and Member States representatives to ensure a coherent advisory framework.
About the SETIPWind project

Figure: The five pillars of wind energy Research & Innovation.
The goal of the SETIPWind project is to support the implementation of the European Commission's Strategic Energy Technology Plan (SET-Plan) and to support the activities of:
The ETIPWind gathering industry and research experts from the whole wind value-chain;
The Implementation Working Group on Offshore Wind gathering representatives from Member States in charge of research agendas on offshore wind.
In addition, the ETIPWind contributes to position wind energy as a strategic industrial sector for Europe by:
Updating the Strategic Research and Innovation Agenda (SRIA) laying down the specific Research & Innovation priorities for both the onshore and offshore wind energy sectors;
Increasing the level of detail and the communication of the Research & Innovation priorities in the SRIA through targeted fact sheets;
Informing policy-making processes and key decision-makers at EU and national level on the sector's technology trends and Research & Innovation priorities;
Providing both an in-person and online platform to facilitate an informed discussion within the wind energy community on common Research & Innovation needs;
Exchanging best practices on wind energy technological and research priorities with the international wind energy community
Structure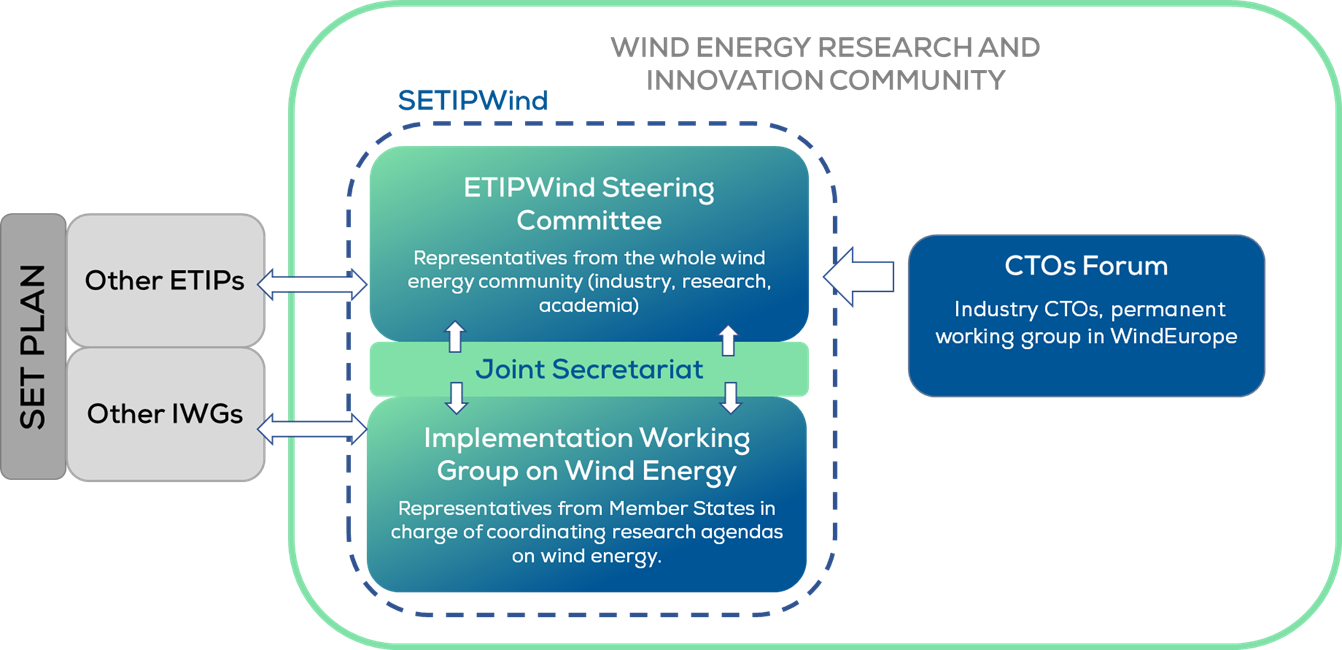 ETIPWind Secretariat is funded by SETIPWind project.