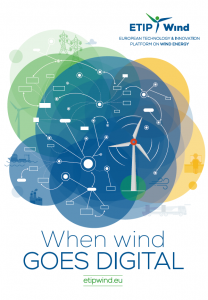 ETIPWind has recently released its latest publication, a brochure entitled When Wind Goes Digital. Lately the topic of digitalisation has received significant attention both from public officials and the wind energy sector itself. Digitalisation will be a game-changer for most heavy industries, including wind energy. Therefore, it is important to understand what digitalisation can mean for our industry. To this end ETIPWind produced a brochure highlighting the vast potential of digitalisation in the wind energy sector: When Wind Goes Digital.
This brochure provides a clear and synthetic vision of the solutions and opportunities offered by digitalisation. It visually maps out the possibilities that exist for the wind energy sector, taking advantage of the digitalisation policy buzz. Policy makers need to see that wind energy is one of the primary green energy sources where digitalisation can provide great added value. This potential has however largely been neglected compared to that of other renewable energy sources, for instance solar PV.
The brochure When Wind Goes Digital aims to create a new awareness among policy makers of all the potential of digitalisation for wind. In addition, it also provides the sector itself with a clear and concise framework to discuss digitalisation.