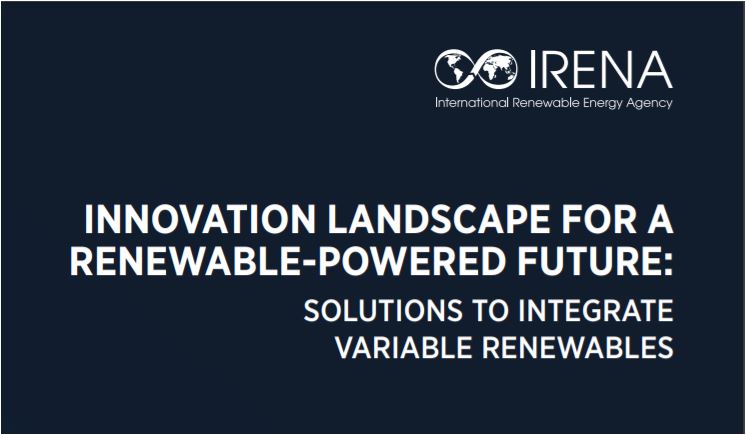 ©Irena
Innovative solutions for integration of renewables
On Tuesday 19 February IRENA, the International Renewable Energy Agency, launched its latest report entitled Innovations for a renewable future: solutions to integrate variable renewables. See the full report.
The report offers a holistic overview of innovative solutions to integrating high shares of variable renewable energy in the energy system. It is presented as a guide or policy toolbox for policymakers across the world and contains 11 solutions to facilitate the integration of variable renewables.
The 11 solutions are based on various combination of 30 different innovations in enabling technologies, business models, market design and system operation. IRENA will launch a briefs on each of the 30 innovations. You will be able to find all the briefs here.
According to IRENA electricity will provide 55% of energy demand in 2050, more than double of today. With regard to power generation, variable renewables would account for 60% of power generation with onshore wind and solar PV providing 36% and 22% respectively.
In the report IRENA estimates that investments in facilitating the integration of variable renewables would amount to 18 trillion dollar by 2050. Also, investments in renewable power generation would total 22 trillion dollar by 2050.
High level panel discussion
The report was presented during panel discussion hosted by Miguel Arias Cañete Commissioner for Climate and Energy, Dominique Ristori Director General of DG Energy and Adnan Amin Director General of IRENA. Notable panelists included Aidan Cronin ETIPWind chair, Walburga Hemetsberger, CEO of SolarPowerEurope and Laurent Schmitt Secretary General of ENTSO-E.
After the presentation of the IRENA report the panelists presented their views on the future energy system and the innovations it will require. Aidan Cronin (ETIPWind) highlighted that more research is needed to support the electrification of heating and industrial processes and to decarbonise hard to abate sectors such as marine shipping.
Mr Cronin particularly highlighted the need for new improved electro-chemical production methods for ammonia as a high impact solution. In addition, grid infrastructure on- and offshore needs to be strengthened and enlarged to cope with the volumes of renewable energy capacity that is to be built in the next decades.