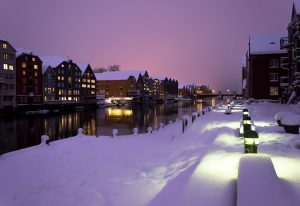 ©Shutterstock
On 15 January the ETIPWind executive committee teamed up with additional wind energy experts for a one day workshop to start activities of the new 3 year period of ETIPWind. The meeting took place in Trondheim, Norway and was a prelude to the 2019 EERA DEEPWIND conference which brought together industry and academic experts in the field of offshore wind energy research.
Click to see the DEEPWIND 2019 presentations .
At the workshop more than 40 participants took part in the various break-out sessions to discuss technology pathways, each one directly linked to one of the 5 pillars of the 2018 Strategic Research & Innovation Agenda (SRIA). All the groups compiled and ranked the priorities according their criticality (high to low) and time frame (short to long term).
The secretariat will consolidate the workshop findings and circulate them to the participants for review and comments. The consolidated results will be discussed by the executive committee on 21 February. The conclusions of this meeting will be made uploaded to the ETIPWind website.
The ETIPWind workshop was the first step in the development of the ETIPWind Technology Roadmap. This roadmap will take an in-depth look at the priorities spelled out in the 2018 SRIA. The roadmap will outline which priorities and actions need coordinated support on EU level and which can be borne by private and/or national investments. This will allow ETIPWind to highlight those areas where the EU added value is highest.
Publication is due in June 2019. See the indicative timeline of the work process below.